Labor Day weekend was simply gorgeous in Boulder. Lots of sun, not too hot, blue skies. It was a perfect weekend for getting to know my new Rans Stratus XP.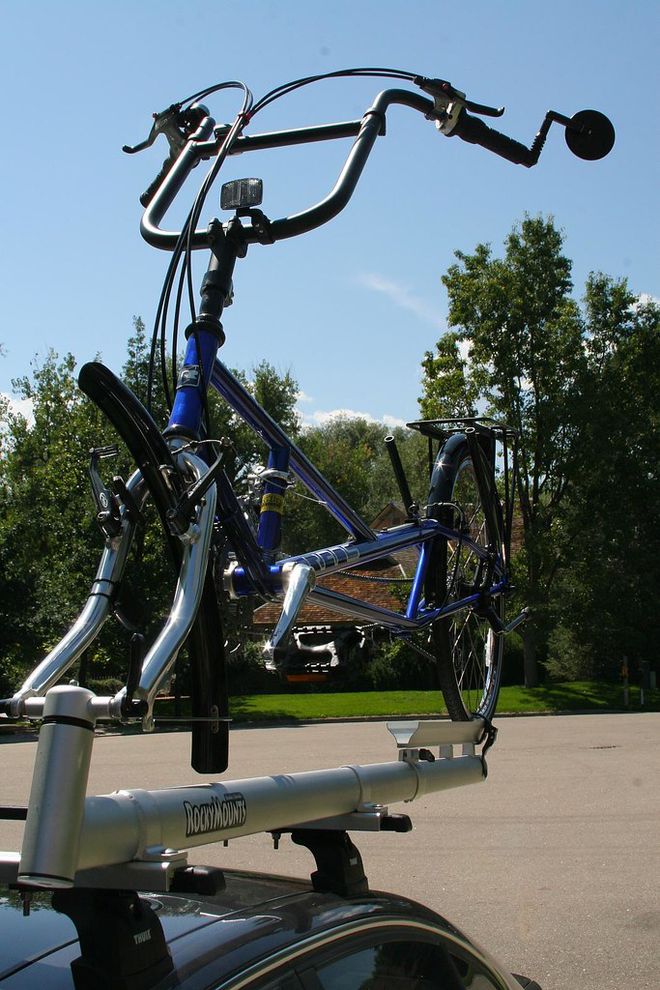 Earlier in the week, I picked up a Thule rack and a RockyMounts R4 rack that could handle the 65" wheelbase of my Rans. The bike fit perfectly. I took off the seat for the drive from Ft. Collins to avoid catching a bunch of bugs in the mesh.
Assembly
All I had to do was put on the front wheel and the seat. Within a few minutes, I had it all together. There was a bit of trickiness when it came to the wireless odometer computer. I just couldn't get it to pair up! Turns out, I had failed to properly reset the thing. It works fine now.
The First Ride
I had no trouble riding from the start. That's why I chose the Rans Stratus XP over the various short wheelbase and other long wheelbase recumbents. But I was still a little wobbly at lower speeds. It was nothing too bad, but it did take me a couple of rides to get truly comfortable at lower speeds. I started conservatively, doing a little 2-mile loop around my neighborhood. But that was too easy! So I did another larger loop, and ended up with a 6-mile ride.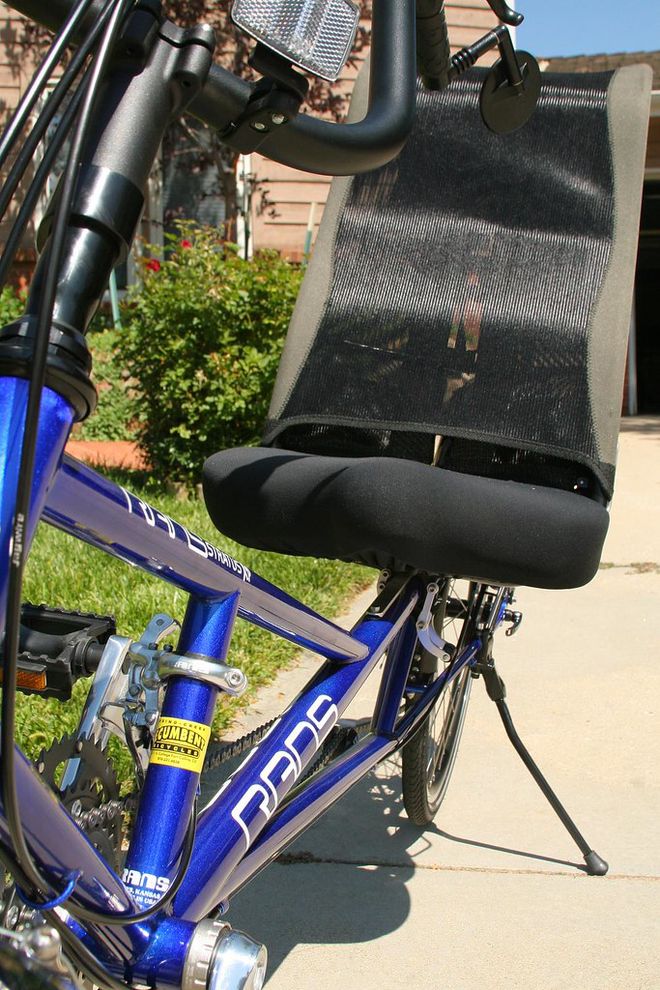 I marveled at how comfortable the entire ride was. I don't know about you, but when I ride a regular bike, I get saddle sore. My wrists get sore. My fingertips go a little numb. And my back gets stiff. Maybe it's age. Once upon a time, I used to ride and ride and ride without these problems. But the Rans changed all that.
The Rans Stratus XP is the Harley of bicycles.
No, it's not loud. It's comfortable. It's a cruiser.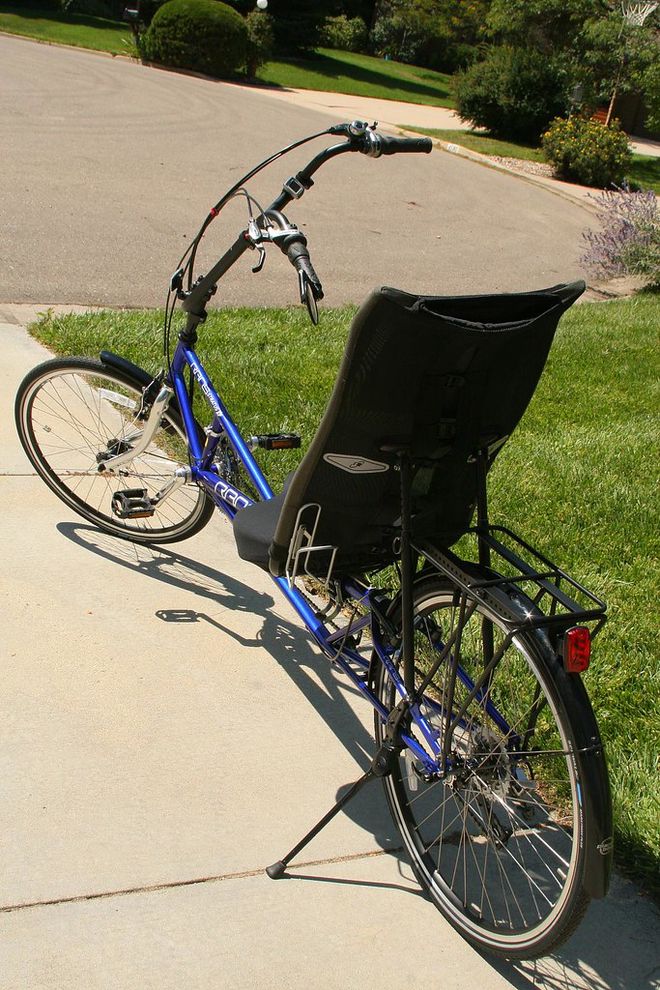 You sit mostly upright, feet in front of you. If I were to encounter someone coming the other way on a Rans, I'd wave low, left hand by my hip, like the Harley folks do with each other. Okay, maybe I'm being silly. But the thing is that the only limit is fatigue from exertion, without the fatigue from having to be in an awkward, unnatural position like you are on a regular bike. That counts when you have had the chance to vote for more than three people for president.
Lazing on a Sunday Afternoon
For my second-day ride, on a whim I rode down Jay Road, and turned towards the airport. There's a really mean hill there, and I almost didn't make it. I kept telling myself to go just a little bit more, and I would rest at the top of the hill. But when I got to the top, I found I was able to rest while still riding. I just pedaled lightly and cruised while I caught my breath. This was great! I meandered a bit around the Boulder bikeway system, which, if you're not familiar, is like its own freeway system that goes around and under the streets. In fact, from a car you hardly notice the bike paths. You can't even see most of them. But they are there. I cruised along Goose Creek trail and then cut across an industrial neighborhood to pick up another trail that took me down past Arapahoe. That's when I paused and, in a moment of second-wind clarity, realized that maybe all I had to do was reset the odometer to get it working. And it worked! I rode back, mostly the same way, and registered just over 11 miles when I got home. I was sweaty but definitely not exhausted. Wonderful!
Monday Morning
This time I struck out in a new direction, and wandered around the neighborhood that surrounds the golf club. (No, I'm not a member.) Beautiful suburban houses old enough to lose that new tract smell. Old growth trees – or at least old enough to make the ride mostly shady.
Interesting fact: I did not see one for sale sign in that entire neighborhood. You can't say that for the rest of Boulder! Then I headed north and found what seems to be a trail to Niwot. It's pretty new, apparently, with fine gravel, well groomed.
I had no problems on the trail. The bike handled beautifully. I took the trail all the way until it was about to lead down a hill, across a road, and right into a tract in the south end of Niwot. I would have gone on, but did not want to overdo it. But I was tempted.
While I rode back, I pondered how, back in high school and college days, I would ride my bike everywhere. In Chicago, I rode up and down the path along Lake Shore Drive, and up into Evanston and north.
I lost that rhythm at some point. In New York, I did not ride. New York is a walking town. And LA, well, let's just say that cycling in LA did not appeal.
And now, on this third day on my Rans, I was starting to relive that euphoric feeling that comes from a good aerobic workout via bicycling. I had ridden longer rides last year on my mountain bike, but never had this feeling – maybe because I was in too much pain and worrying about my numb fingers. But now, riding back on that Niwot trail, I was really looking forward to riding longer rides. I still am. It's a real joy to just cruise along, letting the mind wander, taking in the sights, and arriving home with a good sweat. And riding in the open space outside of Boulder is much nicer than the streets of the Chicago suburbs! I have gotten really lazy over the years. And my job keeps me sitting in front of a computer most of the time. No wonder my jeans have gotten a bit tight!