Brother is very. Very interesting. Very dry. Very understated, for all the violence. Beat Takeshi Kitano directed this movie, his first outside of Japan.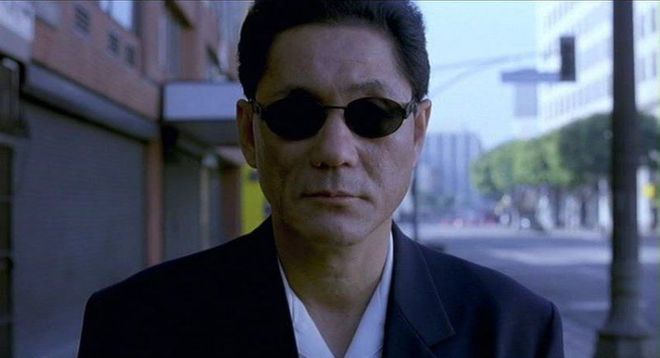 Takeshi Kitano aka "Beat" Takeshi in Brother. (If you don't know Beat, you may still recognize his face.)
Brother (2001), shot in Los Angeles, had Kitano as a deposed Tokyo yakuza setting up a drug empire in L.A. with the aid of a local gangster played by Omar Epps. Despite a large buzz around Kitano's first English language film, the film was met with tepid response in the US and abroad….

Between the disappointing response to Brother and Dolls [another movie he directed], Kitano became a punching bag for the press in the United States, who wondered if he had lost his ability to make a good film. Criticism was less severe in Europe and Asia though many commentators were not as lavish with their praise as they had been with previous Kitano films.
To my own taste, I prefer Brother to Violent Cop, Kitano's first movie as director. For one thing, you get to know why Beat's character Aniki is the way he is. In Violent Cop, Azuma is more of a cipher.
That said, Aniki is not quite as transparently purposeful or ambitious as the Wikipedia description would have you believe. He's a guy who doesn't back down. Ever. And that leads to some interesting reactions as he makes his acquaintance of the LA drug gang world portrayed in the film. What makes it all hold together are the flashbacks that tell us why he's in LA in the first place. Enough said about that.
For anyone interested in gangster movies, I'd say this is probably worth seeing. But for me it's the Kitano-style Japanese touches in the story and some characters that puts this movie in the yes column. Omar Epps is a likable presence, too.