How do you take notes? I prefer to use my bullet journal.
But what about when I don't have it handy? When I'm just relaxing is when I might get a great idea. Or stumble across a fabulous resource. Or see a pithy quote I want to save for later. When relaxing, I'm usually reading a book, browsing around on my iPhone, doodling on my iPad, or watching a TV show or movie. Carrying around my bullet journal just isn't practical—and it sure isn't ideal when it comes to logging stuff that lives online. (My bullet journal is introspective—thoughts on my novel or shorts, mostly.)
I need a resource for bookmarking websites without relying on browser bookmark sync systems. I routinely use Firefox, Firefox Dev, and Chrome on desktop, and Safari, Chrome, and Firefox on iPhone.
For years, I used the old Del.icio.us service. But then Yahoo bought it and killed it, so I migrated everything to Pinboard, bought the lifetime membership that was available then, and that was my solution for years. I have a bookmarklet to pin on my computer. The PinIt app, on iOS.
But having used online bookmarking since what, 2003?, my Pinboard now has 19,323 bookmarks using 2,642 tags. I could spend a week sorting through all that.
Notes.app
When Apple introduced Notes.app, I found it wanting. But it was there, and now and then I used it to jot down something to reference later that day. I ignored the other features as they were introduced. Initially it was only out of convenience that I even used the Notes app to bookmark a website. It's handy for that. Add notes and whatnot without a lot of taps.
I've since made several folders in Notes and now use it for all kinds of things.
But—
The information architecture Notes app does not scale well. There's no real tagging. You can store 19,323 notes without much problem, sync them across devices—but you're stuck using search to find anything that's not up at the top in plain sight.
It's not unlike the old Yojimbo app.
Yet this simplicity of structure does make Notes a good place to put things.
But I did not know about the scanning feature. It's not really scanning, just being able to shoot and arbitrarily crop a photo to insert into a note. Still, to be able to shoot a whiteboard or sheet of paper? That's nice.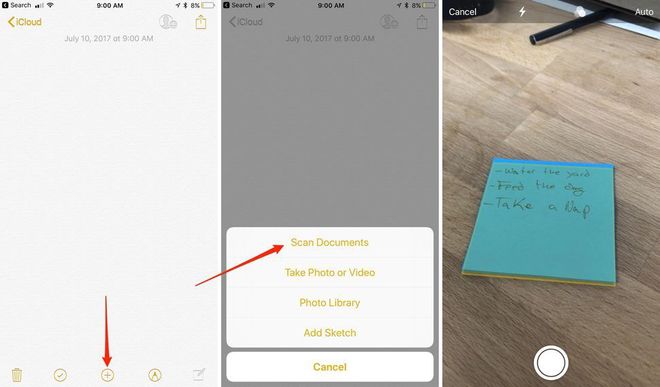 Handy!